Drop-In Critique (2nd Wednesday)
September 14 @ 10:00 am

-

12:00 pm

PDT
The 2nd Wednesday of the month is our Drop-in Critique. Members may brng five pages of their work, double spaced, to read and receive feedback.
The September 14, 2022, Drop-in Critique meeting  will be held from 10 to noon at the Barnstormer Room at the Auburn Airport, 13626 New Airport Blvd. See the map, address and diections below. Be aware there is another map showing the Barnstormer on Old Airport but that is "old" and now we have "new" as in New Airport. Pay attention! GCW will meet at the airport location for the month of September and perhaps longer.
The speaker meeting and the 10th Anniversary Celebration and the fourth Wednesday Drop-in Critique will be at the Barnstormer Room. The book sale booth for the Gold Country Fair was changed to an inside booth so our members were out of the smokey air and under the air conditioning. Bill Baynes sends this message, "Authors who participated in the Gold Country Fair can pick up any money owed to them or remaining books this Wednesday at the GCW critique groups at the Barnstormer Room at the Auburn Airport."
For information please email goldcountrywriters1849@gmail.com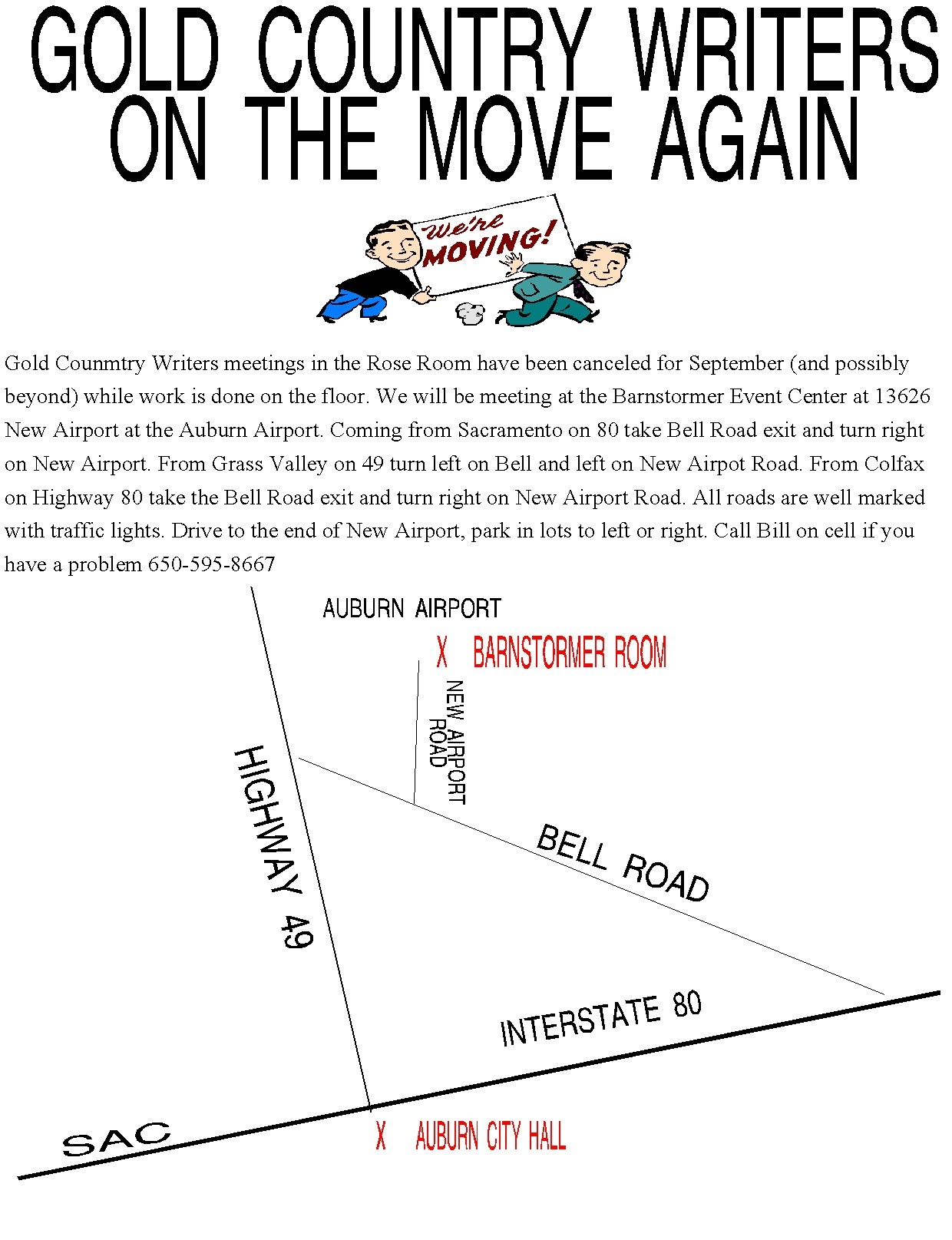 Address: Auburn Airport – Barnstormer Room
Auburn Airport*
Barnstormer Room
13626 New Airport Road
Auburn CA 95602
*Location Change
(from Auburn City Hall, about 5 miles)
Directions—
-Bell Road to New Airport Road
-Drive to End of New Airport Road 
-Park in Parking Lots to Left or Right
-Barnstormer Room is in Building on Right
-Enter Building from Left – follow GCW signage, towards "Welcome to Auburn Airport" sign, turn Right for Entrance
From Auburn City Hall: take 49 toward Grass Valley, turn Right onto Bell Road, and turn Left onto New Airport Road.