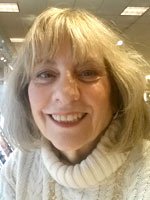 I have been writing since I was 12 years old. Writing was a lifeline for me. It was the one place I could tell the truth. All the adults I knew seemed crazy and difficult. I had a painful childhood, but somehow I am having a wonderful life. My grandmother saved me.
I'm an East Coaster, born in New York. I have a Master's in Computer Science from University of Pennsylvania and a B.A. in English Literature from Temple University. I like school.
I published my first novel, Loss of Deliverance, in 2014. It's about a young woman who gets involved in the dangerous drug trade of the 1970's, and how she finds her way out.
My second novel, Stitching a Life, An Immigration Story, was published in 2020 by She Writes Press. It's a fictional biography of my grandmother. In 1900, when she was just sixteen, she came over from Lithuania by herself. Like millions of Jews, she came to America to escape anti-semitic violence. She landed at Ellis Island, lived on the Lower East Side, and worked in the garment trade. I am happy to honor her with this book.
I was recently interviewed by New York City's Tenement Museum about Stitching A Life, as the book takes place in settings depicted at the museum. You can watch the interview here.

My religion is kindness.
See my Zentangle artwork: http://meditativearts.blogspot.com
maryhelen@maryhelenfein.com
530-852-2260