Third Wednesday, Speaker Dierdre Wolownick
The third Wednesday of the month is our speaker meeting. Our July speaker is Dierdre Wolownick, who holds the record for the oldest woman to scale El Capitan in Yosemite National Park. She is also the mother of Alex Honnold, Free Solo climber. Please join us to hear an interesting author!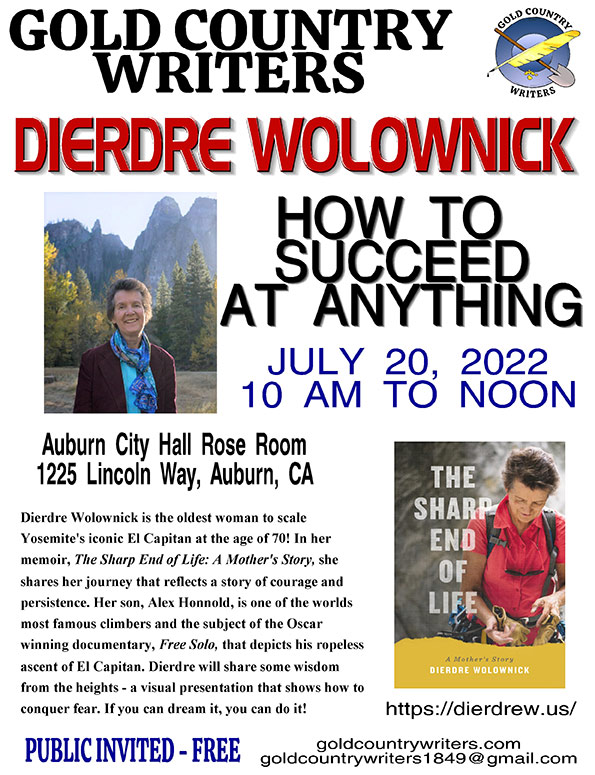 ---
---

Kudos to:
Rebecca Inch-Partridge, who now has a publisher, Black Rose Writing of Texas, for her young adult science fiction book, Escaping the Dashia. Congratulations! The publishing date will be March, 2023.
Betsy Schwarzentraub, Susan Korn, Michael O'Haver, and Cathy Cassady Sylvia for staffing our booth at "Words and Music" on May 15 in Elk Grove.
Phil Jacques for recording James L'Etoile's presentation last month to Gold Country Writers! It is posted on the Auburn Community You Tube channel. Margie will compose a description of the event and will send it to Mary Helen Fein for our website. She'll also ask Chery to post about it on our Facebook page.
David Anderson, in our Poetry Group, whose book of poetry, What Was Within, is coming out in about a month from Christian Faith Publishing, a hybrid press. Congratulations!
The team working on our anthology, Ink Spots, doing terrific work.
Frank Nissen, whose "Street Posse" is forming to help launch his book, Fortune's Call: A Gold Rush Odyssey. It will be released this August. (More posse members are welcome.)
Regular Monthly Meetings on Wednesdays
1st Wednesday of every month
Business Meeting
2nd Wednesday of every month
Drop-in Critique
3rd Wednesday of every month
Guest Speakers & Workshops
4th Wednesday of every month
Drop-in Critique
5th Wednesday of every month
Social Event 
In-person meetings will be held at
The Rose Room, Auburn City Hall
1225 Lincoln Way
Auburn, CA
Click this map for Google Maps Directions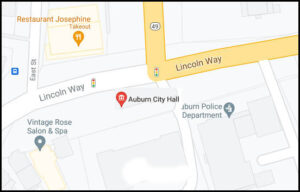 If you are not vaccinated against COVID-19, please bring your masks and observe social distancing for your safety and the safety of others.
Thank You!
Questions or corrections?
Please reach out to the webmaster if you have website questions, comments or corrections.