Welcome to the website of Gold Country Writers, forging better writers!
Thanks for visiting our website.
---
Speaker Meeting – January, 2024
January 17, 2024 @ 10:00 am – 12:00 noon, PDT
The third Wednesday of each month is our Speaker Meeting.
For January, our speaker will be Lara Gularte.
She will speak on the topic "Is It a Prose Poem or Flash Fiction?"
This meeting will be held in the Rose Room at Auburn City Hall.
Click here for Rose Room address, map, and directions.
The public is invited. The meeting is free to attend.
Lara Gularte, Poet Laureate Emeritus of El Dorado County (2021 to 2023), is the author of two books of poetry: Fourth World Woman (Finishing Line Press) and Kissing the Bee (The Bitter Oleander Press). Nominated for several Pushcart Prizes, her work has been published in national and international journals and anthologies. Lara hosts the Poetry of the Sierra Foothills readings at Chateau Davell Winery in Camino and co-leads the Poets and Writers Workshop at the Cameron Park Library.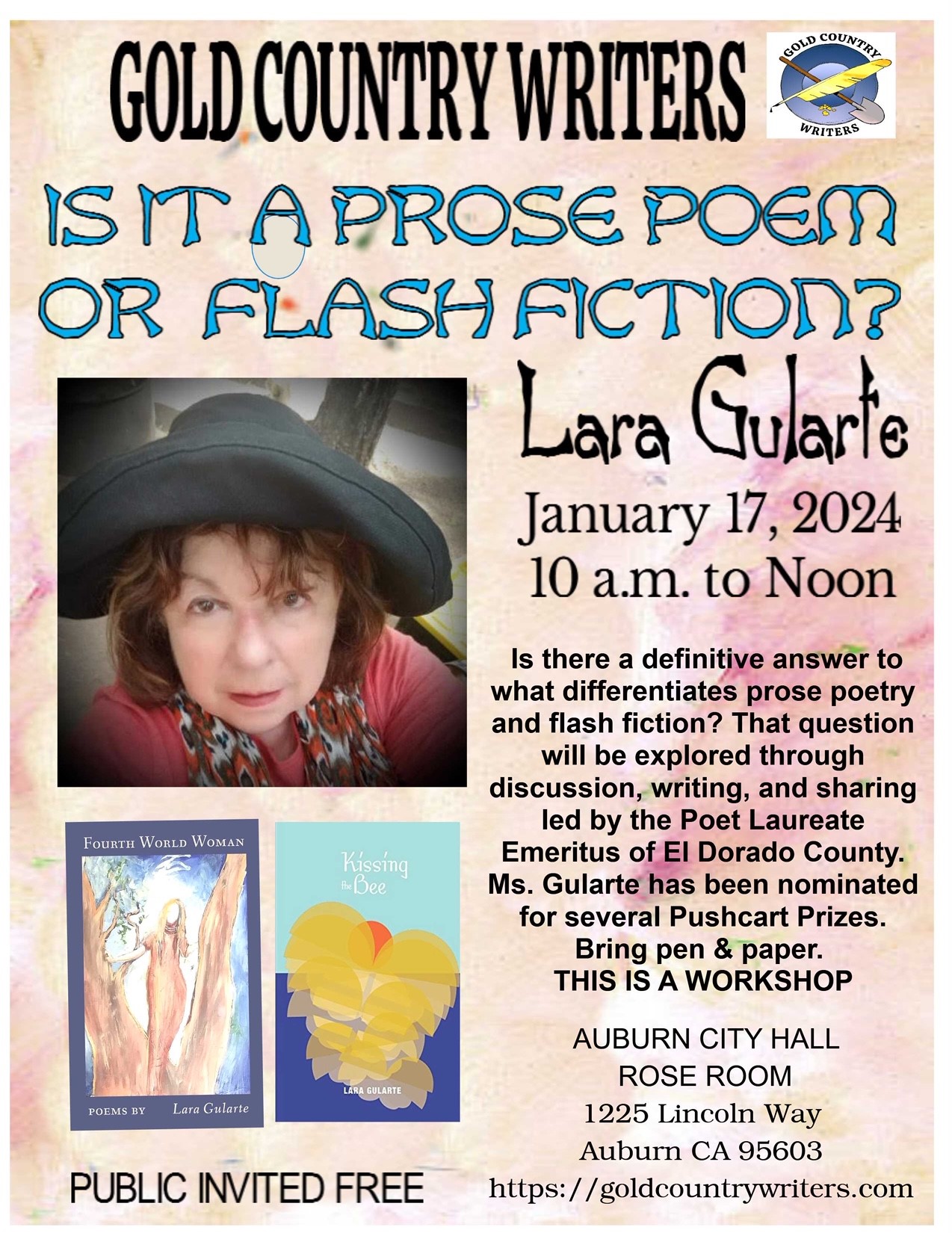 ---
Gold Country Writers 2023 Short Story Contest
Gold Country Writers(GCW)  recently held an Awards Ceremony to celebrate the winners of our Short Story Contest.
We received great publicity from the Auburn Journal, and they published all the winning stories. You can read the Auburn Journal articles and learn all about the winning stories on this page: Contest Winners and Winning Stories. This page also has links to all three winning stories.
GCW member Phil Jacques frequently videos our events for Auburn Community Television (ACTV). Not only did Phil win first place in the contest, but he also generously filmed the Awards Ceremony.  Learn more about the ACTV videos of our ceremony..
As first place winner of the contest, Philip Jacques won the Gold Mountain California News Media Perpetual Award. View a photo of Phil with his award here.
The event was in part sponsored by these generous organizations:  Arts Council of Placer County, Auburn Arts Commission, Gold Mountain California News Media (formerly Gold Country Media), Poets & Writers, City of Auburn, Starbucks Coffee (in Auburn), and Face In A Book Bookstore & Gifts (in El Dorado Hills Town Center).  View more about our sponsors.
We held an exciting drawing for door prizes donated by sponsor Face In A Book and also by GCW.
The Short Story Awards Celebration was very well attended, and a great time was had by all!
---
Regular Monthly Meetings on Wednesdays
1st Wednesday of every month – Business Meeting
2nd Wednesday of every month – Drop-in Critique
3rd Wednesday of every month – Guest Speakers & Workshops
4th Wednesday of every month – Drop-in Critique
5th Wednesday of certain months – Social Event
In-person meetings are normally held at Auburn City Hall in The Rose Room, Auburn City Hall
Click here for Rose Room at City Hall map, address, and directions.
Thank You!
Questions or corrections? Please reach out to the webmaster if you have website questions, comments or corrections.