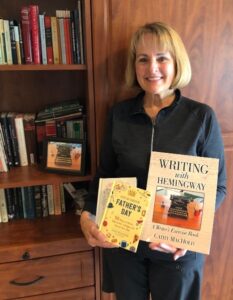 Making the reader feel words of prose is the duty of all writers.  That is what Writing With Hemingway, A Writer's Exercise Book does.  Anything Hemingway inspires me to write, to feel, to speak.  I love talking Hemingway, sharing his experiences.  As an Independent Hemingway Scholar, I share his stories with other members of The Hemingway Society as I travel in Hemingway's world doing so.  It has been my pleasure teaching writing and culinary classes.
In 2020, I entered into the world of writing gift books, co-writing with Jennifer Basye Sander Everyday Should be Father's Day and contributing to Everyday Should be Mother's Day published by Skyhorse Publishing.
Currently, I am writing Life in the Time of Covid-19 which no one will want to read until years to come.  I have a paper accepted for the 2022 International Hemingway Conference.  The working title is From Gun Sites and Fishhooks to Frying Pans about Hemingway's hunting and fishing then cooking adventures in Montana and Wyoming where the conference will take place.
My books are available on Amazon.com.  For more information about me please visit www.cathymachold.com.