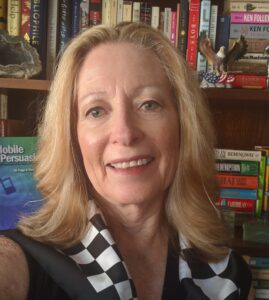 A second generation "Valley Girl," Joan Griffin was raised in the small SoCal town of San Fernando—a place where, for better or worse, everyone knew everyone else—and attended UCLA, graduating with a BA in Psychobiology.
Her first career was as a marketing rep for IBM, back in the days when computers demanded their own gymnasium-sized buildings. Her second career as owner of a sailboat store in Ventura, meant practically living at the beach. Joan moved with her family to the Gold Country of NorCal in 1989, where she found her passion in her third career, teaching. She taught writing and literature to middle school students in Colfax for twenty-five years and earned a Masters in Contemplative Education from Naropa University.
After retiring, Joan began teaching women's history, literature, and writing classes at the Osher Lifelong Learning Institute (OLLI) at Sierra College and UC Davis and is currently serving on the OLLI-Sierra Advisory Council.
Joan has many favorite pursuits. She loves hiking in the Sierra. She enjoys photography, travel, history, quilt-making, and wine-tasting.
Her first book, her adventure memoir, Force of Nature: Three Women Tackle the John Muir Trail, published by Black Rose Writing, will be released on September 28, 2023. The book launch celebration is scheduled for October 21, 2023.