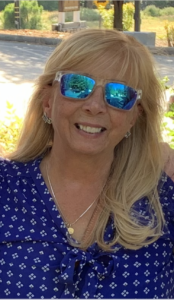 Being broke in Berkeley, her lunch, purchased with scrounged pocket change, consisted of a Hostess Twinkie. A guaranteed headache and adrenaline surge, probably another panic attack. She ate her meal sitting cross-legged on the lawn of an unfamiliar park, a place she found while wandering the streets. The recent high school graduate's mind churned with memories, family dinners with precocious siblings, people who loved her. She scolded herself and wondered where she could go to find home again.
Clay is a memoirist, poet; creative nonfiction writer, and investigative reporter. Her articles, (a review of a Bob Marley concert held at the Paramount Theater, and a report on a Nederlander Family talent hunt in Oakland, California) were published in Rock N' Roll News. She is the author of a poetry manuscript, "I am only Schizophrenic; Love Can Made You Crazy", a true crime memoir "To Light the Sacrificial Rite", and a novella, "Mine That Bird; the Champion and a Dreamer." She is currently working on a short story collection titled "Oddball Jobs; Receptionist Stints from Mortuary to Massage Parlor."
Karen Clarkson Clay's stories are full-blooded snapshots of a space in time, where normality and sometimes good judgement are abandoned for the adventure.