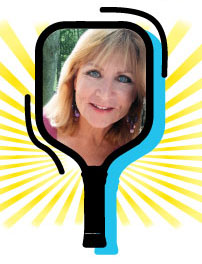 Marlene, born and raised in the San Francisco Bay Area, has called Nevada County her home since 1998. She had always dreamed of becoming a writer, but due to family obligations, she had to pursue more traditional ways of earning a living.
In 2020 she combined a couple of her greatest pleasures, pickleball and writing, to create two pickleball books. The first, Pickleball, The Good, The Bad, and The Ugly, is a lighthearted humorous look at pickleball through a coffee-table type gift book. The second, Pickleball, Friends, and Wine … Because Therapy Is Too Expensive! is a funny, quick moving novel about a woman who loses herself through the drama of divorce, but with help from friends, pickleball, and wine, she rediscovers her thirst for life and her backbone.

Marlene plans to write additional novels in the near future. Her hope is that her books bring joy and laughter into the reader's life.
    


Pickleball, Friends, and Wine…Because Therapy is Too Expen$ive!


Pickleball, The Good, The Bad, and The Ugly
---