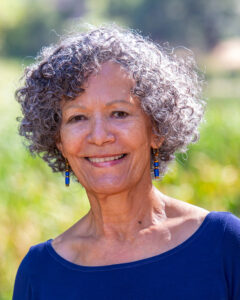 Pauline Nevins was born and raised in England's East Midlands. She immigrated to America with two small children and just enough money for three Greyhound bus tickets to Sacramento. Within three weeks of arriving in California she was employed. While working and raising a family of three children, she achieved her goal of a college degree – a dream denied in her working-class hometown.
Following retirement from State Government Pauline published her first book, a memoir: "Fudge" the Downs and Ups of a Biracial, Half-Irish British War Baby." Three years later she published a second book, "Bonkers for Conkers," a compilation of published personal essays. Pauline is member of two writing groups, and a freelance columnist.
She lives in the Northern California foothills with her husband of five decades. When she's not writing, she's watching Canada geese fly, ducks paddle on the pond and deer romp over the dam.
You can buy her books here: Amazon