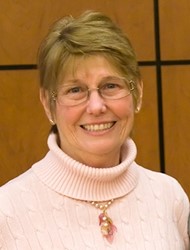 Phyllis Kalbach published a Science Fiction, mystery, thriller entitled Blue Eden THE FUTURE AFTER THE ICE MELT. The novel explores the effects and consequences of global warming on our planet and on humanity. Phyllis researched these concepts and wove them into a thrilling story of what may be to come. What happens to ordinary people when the ice sheets melt? What happens to governments? Who takes power when civilization crumbles? The characters in Blue Eden take the reader into this future world where the answers to these questions are explored. She encourages readers to have intelligent discussions about our future.
Blue Eden was a finalist for the 2013 Eric Hoffer awards for excellence. Finalists fall into approximately the upper 10% of all books that entered the contest. Hollywood has expressed interest in production of this novel into a television series.
Phyllis holds a master's degree in Special Education including multiple teaching credentials. She is an Air Force veteran, has worked for the State of California, as a classroom teacher and has taught college. Phyllis resides in Lincoln, California with her husband, Cyril.  She has two sons and grandchildren in the Sacramento area.